In 2013, the Foundation established Szent- Györgyi Talents Award. The conditions for the award require that the invention, which should be a single discovery (like in the case of the Nobel Prize), be connected to research carried out in Szeged (following the great predecessor). The awardee is to be selected jointly by the members of the Foundation's Board of Trustees and the Nobel Laureate researchers visiting Szeged. The award is to be presented at the gala night of the spring Meeting of Nobel Laureates and Talented Students every year.
Researchers awarded so far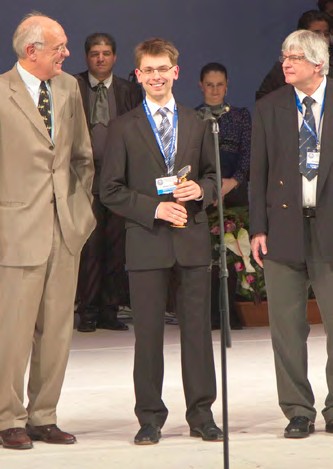 2013: Dr. Balázs Papp
for "Disclosing the general characteristics of genetic interaction networks"
Senior research associate, Institute of Biochemistry Hungarian Academy of Sciences Biological Research Centre
2014: Dr. Csaba Pál
for "The detailed landscaping of the resistance of bacteria to antibiotics"
Senior research associate, Institute of Biochemistry Hungarian Academy of Sciences Biological Research Centre
2015: Dr. Gábor Tamás
for "Identifying sources of slow inhibition in the neocortex and the description of their mechanism"
Professor of the Department of Physiology, Anatomy and Neuroscience, Institute of Biology, Faculty of Science and Informatics, University of Szeged
2016: Dr. Péter Hegyi
for "The investigation of the pathomechanism of acute alcoholic pancreatitis"
Professor of Faculties of Medicine, Universities of Szeged and Pécs Regarding that in 2016 a member of the Foundation was awarded with the highest professional prize, the award was not handed over. The professional result was acknowledged with a certificate.
2017: Dr. Antal Berényi
for "Advancing the therapeutic potential of electrical approaches in the treatment of epileptic seizures"
Adjunct professor, University of Szeged Faculty of Medicine, Department of Physiology
2018: Dr. Lajos Haracska
for "his research in the field of carcinogenesis, during which he described new molecular players of genome stability"
Scientific adviser, head of research group, Hungarian Academy of Sciences, Biological Research Centre, Institute of Genetics, Laboratory of Mutagenesis and Carcinogenesis Research
2019: Dr. Péter Horváth
Given to the director of the Biochemistry Institute of the Biological Research Center of the Hungarian Academy of Sciences, Szeged for the announcement in Nature Communications of January 15, 2018 where he and his colleagues described the technique of intelligent image-based single-cell isolation.
2020: Dr. László Nagy
the scientist of the Institute of Biochemistry at the Biological Research Centre Szeged, who was awarded for "exploring the evolutionary origin of hyphae multicellularity by comparative genomic methods".
2021: Dr. Tamás Martinek
Given to the professor of the Department of Medical Chemistry, University of Szeged for the outstanding research activity performed in the field of "Intracellular protein delivery with endocytosis routing sequences".