Welcome
Dear Colleagues,
We kindly invite you to Szeged to attend a
conference series on the occasion of the
75th Anniversary of Albert Szent-Györgyi's Nobel Prize Award
The Faculty of Medicine at the University of Szeged, Hungary, is organizing an international conference series on the occasion of the 75th Anniversary of Albert SzentGyörgyi's Nobel Prize Award which he received in 1937 for isolating vitamin C and for his research on the Krebs cycle. The event is scheduled to start on 22nd March, 2012 (Thursday) and ends on 25th March 2012 (Sunday).

The history of the University of Szeged dates back to 1581 when István Báthory, the Prince of Transylvania, founded a higher educational institution in the city of Kolozsvár (Cluj-Napoca), which became highly prestigious within a very short period of time. Due to its professors well-known all around Europe it provided a high standard of education and also had the right to confer bachelor and master's degrees. Moreover, it was the only institute for higher education at the end of the 16th century in Hungary. Later Mary Theresa entrusted the Piarists to reorganize the institution, as a result of which the Faculty of Medicine and Surgery was established in 1775. Later on, these served as the basis for the Hungarian Royal University of Kolozsvár, founded by Francis Joseph I in 1872. It was renamed after the king in 1881 and bore his name until 1940. The institution moved to Szeged in 1921.

We are all proud of Albert Szent-Györgyi, a former professor and dean of the Faculty of Medicine and the former rector of the University of Szeged. He is an idol both for lecturers and students, presenting the idea that world famous results can be achieved in Hungary and Szeged.
Szeged is a beautiful and spectacular city in Hungary, situated on the banks of River Tisza with a population of almost 170,000. It lies along Hungary's south-eastern border, just to the south of the estuary of River Maros. Szeged is the capital city of Csongrád county and serves as a commercial and cultural centre of the region. The climate is very pleasant and the area is well known for its beautiful spring. Szeged gets an average of 2,000 hours of sunshine each year (that's 83.5 days of daylight), no wonder it's often called the City of Sunshine. Local industry is reputed for food processing and production. Szeged is especially famous for its two most prominent agricultural products: Pick salami and one of the most distinctive Hungarian spices: red pepper. Red pepper gets its red colour and divine flavour from an extended exposure to sunlight, which makes Szeged an ideal place to grow this spice. Szeged is also famous for Székelygulyás, a goulash made of pork, pickled cabbage and sour cream, and Halaszlé, fish soup made of carp and catfish. Oil and natural gas processing are also of importance to the region. Theatres, cinemas, clubs, riverside swimming pools and sports grounds provide plenty of opportunities for recreation. There are several large parks and a famous botanical garden to stroll through. Fine restaurants are situated all over Szeged offering various domestic and international cuisines (including Greek, Chinese, Italian, German, Indian, Transylvanian and Arabic). Public transportation provides a wide variety of vehicles with tram, trolleybus and bus services being so extensive that you can virtually reach every corner of the city.
It goes without saying that the organizers intend to provide a friendly atmosphere by preparing a variety of cultural and recreational programmes to accompany the conference series itself.
We hope you will enjoy the conference series on the occasion of the 75th Anniversary of Albert Szent-Györgyi's Nobel Prize Award.

On behalf of the organizing committee,
With kind regards,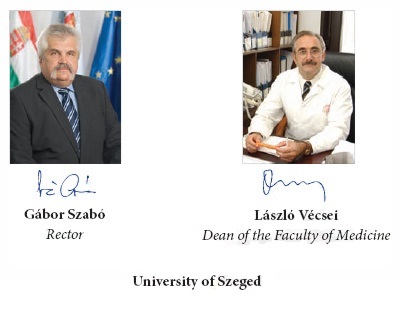 to top